05th April 2023
Following the success of our free Sewing Workshop Series earlier in the year, we've released new dates for anyone who wants to develop new sewing skills and missed out first time around!
Starting from Tue 25th April and running until Tuesday 30th May, our skilled tutor Vanessa will take you through the steps needed to confidently create your own projects at home. The weekly workshops will teach you the basics like how to use a sewing machine, different fabrics, seams and hems and you'll also learn how to make your own handy shopping bag and some simple children clothes.
Our workshops are totally free and open to anyone aged 16+. We want everyone who joins us to be able to take on simple fabric repairs at home and feel confident in taking on their own projects, which will save money and create less waste, as well as being a great hobby. You'll be able to learn in a friendly 'no pressure' environment and because the classes are small, Vanessa will be able to support you on a 121 basis as well as part of the group.
We will supply everything needed to join our workshops (including refreshments), but if you would like to bring your own sewing machine to learn on, you're very welcome.
Please see our list of workshops and dates below and click the links for more information:
Tues 25th April - Sewing machine basics – Begin your sewing journey by learning to use a sewing machine. Aimed at complete beginners, you will be guided step by step on how to thread and operate the machine. We will also go through some of the basic stitches and sewing feet most commonly used. No previous sewing experience necessary. 
Tues 2nd May - Fabric explained – Using the right fabric can make all the difference to a project. This is a chance to get to know and try sewing on different fabrics. You will also learn the importance of pattern placement when cutting and how to make the most of your fabric. You will need to be able to use a sewing machine for this workshop.
 
Tues 9th May - Seams, hems & fastenings – A useful workshop to understand the use of different seams and fastenings providing the opportunity to start building a helpful reference of samples for all those projects yet to come! You will need to be able to use a sewing machine for this workshop.
 
Tues 16th May – Shopping bag – This fun little project will put your new found knowledge into practice. Step by step you will be taken through the process of construction, picking up useful hints and tips along the way. A knowledge of sewing seams is needed for this workshop.
 
Tues 23rd May - Alterations and repairs – In this session we will look at ways to fix issues such as unravelled hems, holes or replace missing buttons and also learn how to do basic alterations. You will need to be able to use a sewing machine for this workshop.
 
Tues 30th May – Open workshop – Our last workshop of the series will provide the opportunity to work on any of the skills you have learnt or put those finishing touches to your previous projects. It is also a great chance to chat about and seek advice on future ideas.
'Really enjoyed the complete course. Not too many people which gave more one to one attention '. Workshop Participant 

'Vanessa is an excellent teacher - she explains clearly and does not make you feel like an idiot when things go wrong'!! Workshop Participant

'Would love to learn more'. Workshop Participant

It is recommended that you bring your own sewing machine if you have one, although they can be provided if not (please advise if you need one when booking). Materials will be provided, and you will be advised in advance if you are required to bring anything extra for the sessions.

Refreshments will be available throughout the workshops but we recommend bringing a packed lunch.

All workshops start at 10.00a.m and run until 3pm. 

Suitable for ages 16yrs and upwards. Maximum class size: 6

To book, please email vanessa@footholdcymru.org.uk letting us know what date/s you'd like to attend and your name and contact details.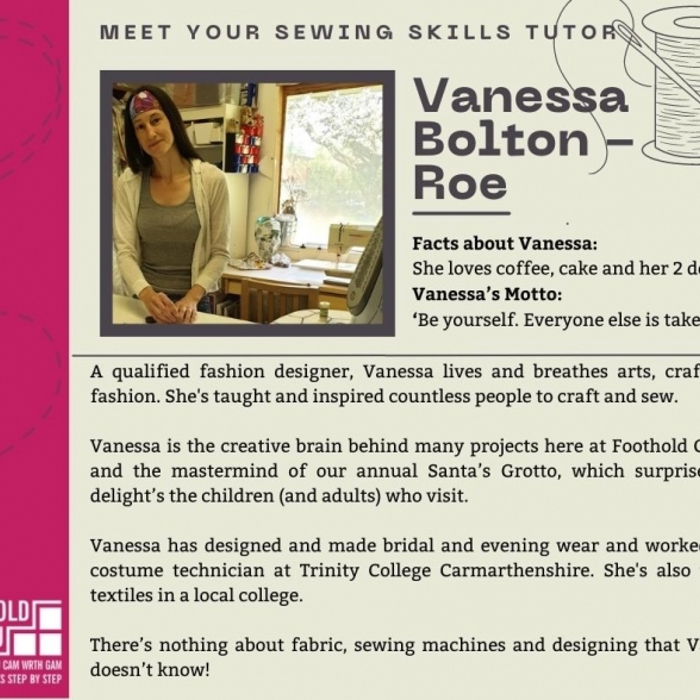 Examples of past workshop projects